The Hollis Arts Society gathers every ​2nd Wednesday of each month at 7 PM.
Next Meeting: Wednesday June 14, 2023
Mary Fish presenting on Felting
7 pm at the Lawrence Barn Community Center 28 Depot Rd Hollis NH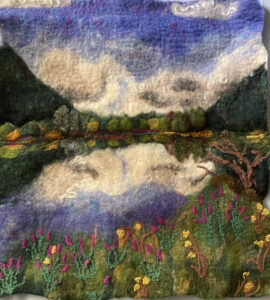 Artist's Bio: When I met my husband, his hobby was Revolutionary War reenacting. I had to learn to make the clothes, to cook on a fire and to give myself something appropriate to do, I found an old spinning wheel and learned the fundamentals of spinning, lucet and weaving (wasn't all that great at any of them but visitors had no way to know). This introduced me to wool. Somewhere along the way, I took a class in felting and I was hooked. There's wet felting (very strenuous, not my favorite) and dry felting – flat felting and sculptures.  My heart lives there – using wool fleece, roving, yarn, silk and very pointy needles to create everything from children's toys to landscapes and all manner of things in between.
When my children's school didn't have art, I took them to art classes so they could experience it.  I learned things while I waited for them, the basics of drawing and proportions. I kept a small sketchbook with me wherever I went.  It's come in handy in so many ways over the years. I've been away from creating with fiber for several years taking care of family.  That little sketchbook kept medical notes, my secret stress, little moments of memory and joy. Felting doesn't weigh much, but it's bulky and therefore not something you can pack up and take to the ER or nursing home. Now I have the time to go back to my studio, sort through my materials and go back to creating on a larger scale. Joining the HAS was part of motivating myself to get back to crafting and shaping fibers into just about anything I can dream up.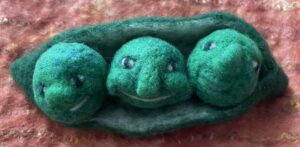 _______________________________________________________________________________________________
Click Here for the Current Newsletter
and Share our posts about HAS to increase awareness about us.
________________________________________________________________________________________________
HAS' Gallery on West Pearl
100 West Pearl St, Nashua NH
Art Show Opening Sunday June 25th 1-3pm
Featured Artists Pat Hurd & Natalia Yuresko-Belous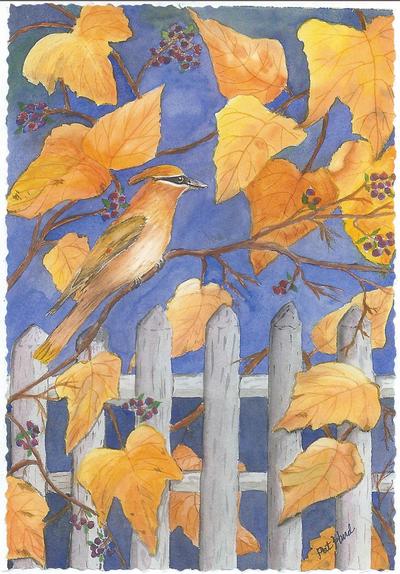 Pat Hurd Artist's Bio:
After a successful career in nursing Pat retired in 2004 and took her first art class at Rivier University in the RISE program. Pat's love is watercolor and pen & ink drawing. She joined the Hollis Arts Society and soon was appointed as Director of Sales & Marketing and then elected President for the following three years.
Her work has been exhibited in galleries in NH and MA. She has illustrated a book of poems, and is currently learning to play the harp. Each December 24 in the afternoon Pat along with her instructor and other student harpist play in the lobby of Catholic Medical Center in Manchester, NH.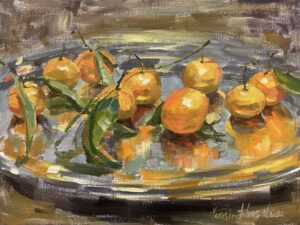 Natalia's Artist Bio:
Natalia Yuresko-Belous shows her talent in expressions of her art from her life in the Ukraine to her new home in New Hampshire.
Natalia is a recognized Ukrainian artist recently relocated to Southern New Hampshire.
She is a graduate of the Pedagogical University of S. Ukraine where she began group
showings and exhibitions in 1998. In 2000, she had her first solo-exhibition at the Bely's
Museum of Fine Arts in the Chronomorsk, Odessa region. In 2008 she opened an Art
School and Gallery in her historic hometown of Bilhorod-Dnistrovskyi, Ukraine. In April
2022, sadly leaving their Ukrainian lives behind, Natalia and her immediate family
moved to the United States and is presently settling into Southern New Hampshire. She
is a new and welcomed member of the Hollis Arts Society.
Natalia works in the genre of landscapes, still life, portraits and mural paintings
expressing her visions to the canvas and her meaningful art visons to the viewer's eyes
and minds.
In her her first major art exhibition in America at the Nashua 'Gallery at West Pearl' she
is looking forward to a wonderful new chapter in her life to share her passion and art
with a newer and welcome audience. The exhibition features numerous paintings and is
on display until 30 May.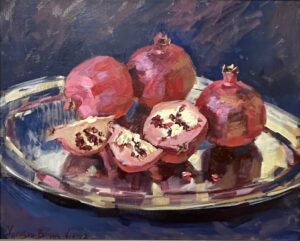 This is a Members Only show.
Artists requirements include framed art, short Artist Bio, and being at the Gallery as often as possible with the dates we are open.
Prices of your artwork should include a 25% Gallery Commission.
If you are interested in showing your work in our Gallery on West Pearl, Contact
Dee Haddad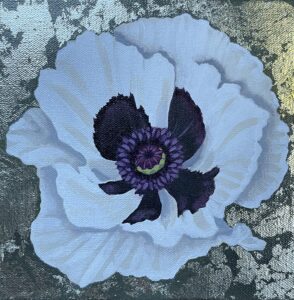 White Poppy by Cheryl O'Donnell of Brookline NH
_______________________________________________________________________________________________
The Hollis Arts Society gathers every ​2nd Wednesday of each month at 7 PM.
Next Meeting: Wed June 14, 2023  7 pm
at the Lawrence Barn Community Center 28 Depot Rd Hollis NH
Mary Fish presenting on Felting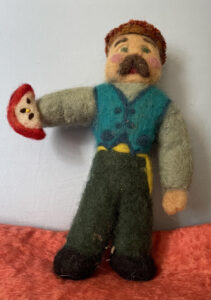 _____________________________________________________________________________________________
No General Meeting in July
Watch for Info about Possible Pop Up Art Shows the Members can sell at!
Coming in August Dana Haigh presenting on Alcohol Inks
at the Lawrence Barn Community Center 28 Depot Rd Hollis NH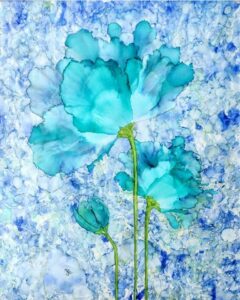 Based out of Groton Massachusetts, Dana has been creating Art for over 30 years. Although she works in several mediums, including watercolor and acrylics, alcohol ink is the medium she feels most connected to; the abstract fluidity she creates evokes the beauty of nature, while the figures and silhouettes present in her work represent the human connection to the natural world. The octopuses and other animals she enjoys painting represent the wonderful strangeness and beauty of nature.
Dana divided her childhood between New England and France; this early exposure to galleries and museums across Europe influenced her love of Art and its history. Although her early degree and career in Art History lead to working with other's art rather than her own, she never lost the drive to create. Today, Dana's primary job is being a mom to her three children. Creating art while being a mom can be challenging, but Dana hopes to set an example by following her passion; her young artists are understanding and often encouraging of her art obsession.
Dana's award winning work has been featured in Sun Stone Studio in West Concord, MA, Greenbelt's juried "Art in the Barn" show, the Attleboro Art Museum, Gallery Twist, the Topsfield Fair, several online shows run by Art Fluent, and many private collections. She is currently a member of the Nashoba Valley Artists Guild and the Artists Circle out of Groton, MA.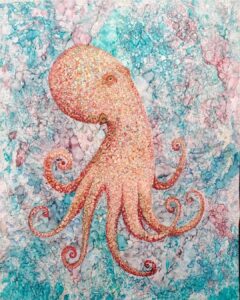 We are grateful you are a part of

Hollis

Arts

Society

.
 ​Light refreshments served!
Free to members and first-time visitors ​All others $5
Membership renewal is due by March 1, 2023   HAS 2022 Membership Application
Lawrence Barn        28 Depot Rd, Hollis, NH
Upcoming Meeting Presenters 2023
January: HAS Business Meeting
February: Gold Leafing with Cheryl O'Donnell
March: Ron Weiss presenting on "The Artist as Entrepreneur" the Business of Art
April: Member Critique-Seeking some constructive suggestions on a piece you are working on?
May: Dee Haddad presented on Palette Knife Painting
June: Mary Fish presenting on Felting
July: No meetings during July for a Summer Break
August: Dana Haigh will be presenting on alcohol inks.
September:
October:
November: HAS Annual Art Show and Sale November 4-5, 2023
December: Holiday Gathering
________________________________________________________________________________________________
Click on the following link to see our 2022 Year in Review Business Information
-HAS challenges…   WE NEED MEMBERSHIP HELP
     we're doing more than ever before…
            we need help and backup in different  committee areas
   Please understand we have a Low Cost Art Society Membership BECAUSE we depend upon Volunteeerism to help…
now is the time to see how you can help out our Board Members and Committee Chairs!
         Please offer your ideas and suggestions on how you can help HAS  become  a  better and stronger Art Society
Please return the road signs you placed to advertise our November Art Show!
_____________________________________________________________________________________________
Membership
Membership Dues for 2023 are DUE…even if you just paid in November.
In order to get the Discounted Member Rate to participate in our 2023 November Art show,
2023 DUES ARE DUE by March 1st, 2023
HAS 2022 Membership Application
The benefit of being a Member in Good Standing
-Attend Free interesting meetings
-Your Artwork on our HAS website with a Link to your websites, social media, etc
-Participate by showing your Artwork at our Gallery on West Pearl
-Participate in HAS sponsored Art Shows (April 2023 at the Hollis Library)
-Attend Art workshops at a reduced rate
-Pay a nominal fee to participate in our November Art Show
Don't wait! Send in your Dues while it is on your mind. Still only $40/year. Due by March 1 
If you are confused about your Membership Status, call or email me.
Thank You,
Anne Wifholm-Membership Chair
Call 603-345-3462 or email wifholm@aol.com
_______________________________________________________________________________________________
on a different note:
Do you want to fulfill your Volunteer Requirements for Hollis Arts Society?
Sign up to work a 3 hour shift at our West Pearl Street Gallery
For any Gallery Information contact Dee at deekev0990@gmail.com
100 West Pearl St, Nashua NH         Hours:  Friday  4-6pm     Saturday 11-1pm
We will continually make Calls for Art as the year goes on and in our monthly newsletter you will find various opportunities to participate in the Gallery as well as to be a part of other local events. 
Members only opportunity…Update your membership and invite others to join!
________________________________________________________________________________________________
Seeking Member Participation!!
We know you love showing your work and artists are often introverts but we'd love to see you at our meetings, hear what you have to say, and maybe get some help from you too. We have a small group of members working hard handling 2+ volunteer positions to keep HAS running but we'd love your help!!
Participation provides social time with other artists. Get inspired and see what others are doing.
Check out our exciting list of upcoming Meeting Presenters (above)
________________________________________________________________________________________________
Still…Open Board Positions for 2022
Vice President-Assist President and other Board Members
Booking and Handling our Monthly Presenters: 
-Search online for local artists, craftsmen, musicians, writers, performers, etc who may present for us.
-Contact them to see if they would present a 45 minute-1 hour presentation.
They receive a $75 payment for presenting and 1 year's membership if they want.
-Contact them about giving us a few photos of their work and a short description of their presentation.
-Forward that info to Cheryl O'Donnell and Carolyn Maul for advertising the week before the meeting.
-Meet the presenter around 6:30pm, the night of our monthly meeting so they can set up before 7pm.
Treasurer- Manage a small budget for HAS. File yearly Tax Returns with an accountant. File annual forms to maintain 401-C Status for HAS.
Grant Writer-We are seeking outside funding to help manage our annual expenses. We already know of local funding opportunities but need someone to file the applications for us and maybe write an essay showcasing HAS as a worthy recipient.
________________________________________________________________________________________________
New Members always welcome!
Please check our MEMBERSHIP page!
Our members come from many surrounding towns in Massachusetts ​as well as New Hampshire!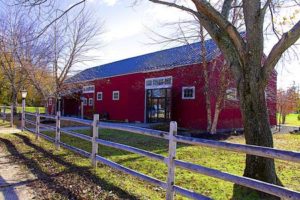 Local Meeting place for Hollis Arts Society-The Lawrence Barn
28 So Depot Rd Hollis NH