Photo by Brenda McDougal
HAS Member Show at the Hollis Social Library
coming April 1st, 2023
Theme: Everything Hollis
Coming in April HAS is hosting a month long exhibit of original artworks by our members at the Hollis Social Library.
The subject matter of the artwork will be images of or related to Hollis, NH.
All of our members are encouraged to submit artwork for this event.
Your artwork must be framed and ready to hang (wire only, no sawtooth hangers please) by 3/31.
We will be putting up artwork from 1-4pm on March 31 and the show runs through April. There will be an opening reception, details on that to come.
If you are interested in submitting work please contact
Grace McGinnis
HAS November 2023 Art Show and Sale
November 4-5, 2023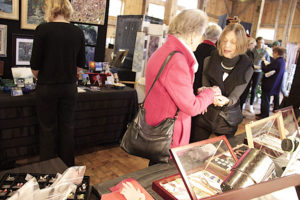 HAS November 2022 Art Show
We are so grateful to all the Artists who participated in our show, to the Volunteers that made it happen,
and of course to our local community members who showed up to view and purchase from our Artists.
It is no small feat to make the show happen. We appreciate everyone's involvement and hope to see you next year!
You must be a HAS member in good standing to exhibit at this event. New members welcomed.
Membership renewal is February 2023   HAS 2022 Membership Application
Please return the road signs you placed
to advertise our show at 0ur January meeting!
And…Advertise on Facebook to increase awareness about HAS
or "Share" our posts on Facebook